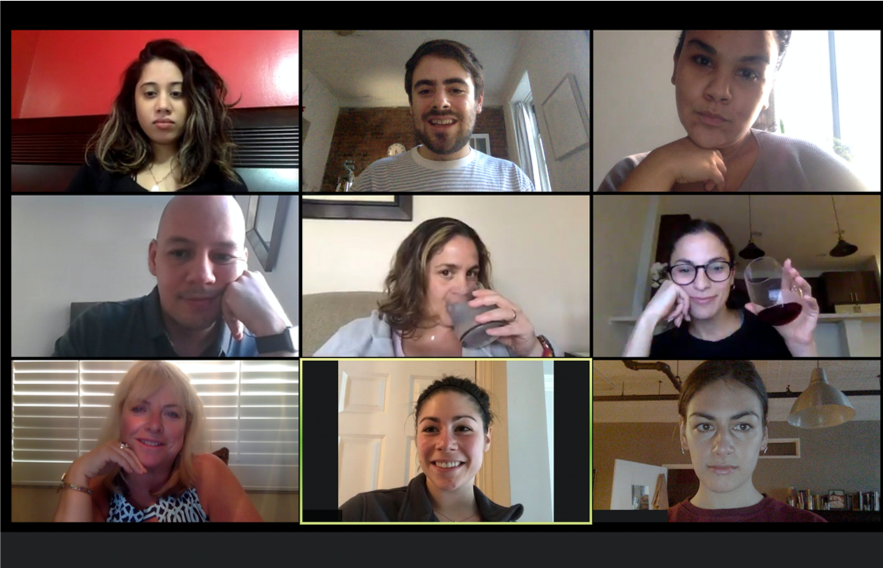 Professionals at every level of business are still grappling with how to effectively communicate over video calls. Nine months into the pandemic, some of the most common concerns we hear are:
When I give a presentation, I can't tell if anyone is engaged.
I sometimes struggle to maintain my focus on others during virtual meetings.
I am worried the virtual environment is negatively affecting the quality of my client relationships.
It seems that Zoom will be in our lives for the foreseeable future so here are four tips to help you and your organization improve virtual meetings.
Tip #1: Shorter Meetings
Zoom fatigue is real. People have shorter attention spans and energy drains faster when looking at a screen. When you plan meetings for your organization, find ways to shorten meetings or break up content into several smaller, easier-to-consume segments.
Tip #2 Create Opportunities for Participation (The 10-5 Rule)
Activity is a simple way to slow down brain drain. The 10-5 Rule simply suggests after ten minutes of presentation, plan five minutes of group participation.
This can be as simple as a group discussion (or breakout room discussion for larger audiences) on what was just presented. The Paraphrase & Probe Challenge (see Tip #3) is an effective tool to improve comprehension and retention. If you have to host a longer meeting, maybe mix things up in the fifth 10-5 block by playing a game or doing something physical.
Tip #3: Paraphrase
It is completely natural in a virtual meeting environment for participants to be more prone to distraction. Developing your active listening skills is a good place to start sharpening your focus.
Active listening is commonly referred to in vague terms as a good professional skill to have. But what does active listening actually entail?
A key factor in good active listening is paraphrasing. By repeating what you have just heard, you force yourself to remain engaged with the speaker. By putting what you have heard into your own words, you improve knowledge retention.
If you are having a one-on-one meeting, find ways to politely summarize and confirm what you have heard. If you are part of a group listening to a presentation, notetaking is a great place to practice paraphrasing.
As a presenter following the 10-5 Rule, use your five-minute participation time for the Paraphrase & Probe Challenge. Select 2-3 of the most important topics from your last ten-minute segment. Challenge participants to paraphrase one of those points back to you and ask one probing question. That probing question can be an excellent starting point for a group dialogue.
Tip #4: Create New Expectations & Etiquette for Your Organization
To create new expectations and etiquette, engage your colleagues in a discussion about what their challenges are in the virtual environment. This conversation needs to be a safe space for colleagues to share. If no one feels comfortable sharing, for example, they get distracted more easily in a virtual meeting, the root cause of the challenge will never be identified. The challenge will never be overcome.
Once you have identified the challenges in your organization, brainstorm solutions as a group. If everyone's virtual meeting attention span is 90 minutes max, maybe that affects how you plan meetings or what you do in your sixth 10-5 block.
Remember, there is no precedent for etiquette in our current environment so your organization is free to establish etiquette in a way that makes sense for you, your colleagues, and your specific challenges. You can make tools like the 10-5 Rule norms.
Lastly, make sure people have clear expectations about virtual meeting etiquette. If you are going to do the Paraphrase & Probe Challenge at the end of every meeting, make sure people understand what it is and are aware that they may be called upon to participate. If you are going to do something somewhat physical or silly at the 90-minute mark, make sure everyone is aware of and comfortable with it before establishing it as a norm.
All of these tips are intended to help your team communicate more effectively, improve engagement, and reduce fatigue during virtual meetings. If you catch someone off-guard with the Paraphrase & Probe Challenge or ask a colleague to do a physical activity that makes them uncomfortable, the ultimate effect will be embarrassment. This will negate all potential benefits of these virtual meeting tactics. Setting clear expectations is key to a healthy virtual workplace culture.
L M Thomas Group offers a two-hour workshop to improve their virtual workplace culture. If you would like to learn more, contact Project Consultant, Joey Rasmus via email: This email address is being protected from spambots. You need JavaScript enabled to view it..