As consultants, some of the most common questions we answer is about how we got to where we are professionally. People wonder how we got here, and how we see the world. We thought we would share our team's stories.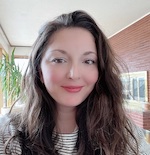 Today, we're sharing an interview with Jamie Pulliam, Project Consultant with L M Thomas Group.
David: Jamie Pulliam has worked with LM Thomas Group for almost one year. Recently she joined full-time and brings an impressive resume and professional experience with her! During this short Q & A we dive a little deeper into Jamie's professional background, her perception and strategy on key business topics, and see how what has led to her success over the years!
How did you get started? Walk us through your professional journey?
Jamie: My schooling was in digital media production and psychology. I started working in production (photoshoots) holding creative and production roles. I quickly moved into advertising working across still photography, film, animation (2d, CG, and stop motion), motion graphics, print, and digital.
In this area I've had the pleasure to work with amazing companies over the years. [Companies include: Apple, NASA/ACS, Intel, Microsoft, Walmart, Google, Sony, The New Yorker, Starbucks, Nike, Target, Honda, M&Ms, Johnson & Johnson, Procter & Gamble, Nestle, Unilever, and General Mills.]

I also have had the pleasure of working with a number of wonderful agencies during my professional journey. [Agencies include: BBDO, R/GA, Saatchi & Saatchi, 72andSunny, Deutsch, Wieden & Kennedy, Swift Collective, Liquid Agency, and DDB.]
Finally, after a decade in advertising, I transitioned into tech with a focus on early-stage startups (mostly in healthcare). Went through an acquisition with Johnson & Johnson. And then began working with LM Thomas Group (LMTG).
David: What influenced you to take this path?
Jamie: Creative work compels me. I think it's interesting to design work that communicates and connects!
My transition into tech and ultimately to LMTG consulting work was motivated by wanting to make a positive impact on my community and the world as much as possible.
David: What has been the biggest hurdle or item to overcome in your career? What about in helping others grow their business?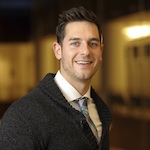 Jamie: I'd have to say — for both my own career and in helping others grow their businesses — the biggest hurdle I face and see repeatedly is imposter syndrome. It's incredible how powerful it can be to hush or release the internal critic and just do your thing!
David: What strategies do you have regarding a work life balance? Is work/life balance a thing?
Jamie: Work/life balance is a thing! But it's not a 50/50 thing.
I see work/life balance as a cycle that we must engage in continuously as circumstances and priorities evolve. Balance is defined as an even distribution of weight enabling someone or something to stand upright and steady. I know my work/life balance is off if I'm overwhelmed, unsatisfied, or if I'm getting increasingly stressed. When that happens it's crucial for me to pause and check in with myself to see what I'm prioritizing and why — and how it aligns with my goals in both areas of life.
David: The LMTG newsletters highlight 3 major topics, Adaptive Change, Leadership, and Growth. How would you define or better explain "Adaptive Change"?
Jamie: Adaptive change is a part of life, we're adapting all the time whether we're aware of it or not. In business and in personal life, growth depends on adaptive change. Ie. changes that are small, intentional, well thought out, and incremental made on a daily, weekly, and/or monthly basis. I believe this type of change is what builds resilience and ultimately longevity.
David: What routine do you have to stay productive?
Jamie: Honestly, I don't particularly thrive with routine. Having some structure is important but what keeps me productive is curiosity and collaboration. I am most productive when I'm engaged and challenged. I find that productivity soars when people/teams are involved in the process... showing interest in, paying attention to, and participating in the journey rather than solely focusing on the desired result or outcome.
David: Book, Podcast, Material Recommendation?
Jamie: Ooooh, love this question! A specific book that I love and recommend is Find Your Why by Simon Sinek, David Mead, and Peter Docker. It gives strategies and exercises that help people and/or teams discover their most powerful motivations.
A second recommendation for consuming content (especially if you don't have a ton of time) is the app Blinkist. It has non-fiction books and podcasts, presented in 15 minutes. It's kind of like cliff notes — I love it for checking out a book before buying, listening to experts share their knowledge, and for when I want to read but am in a super busy time with work or life (you can choose audio or reading, great for walking the dog/jogging/travel).