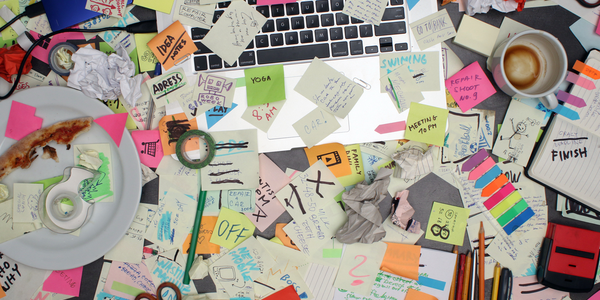 Without even having to say it, many leaders express being overwhelmed - especially with the upheaval of a pandemic! So leaders often ask us, "How do we get out of being overwhelmed?"
How do we get out of being overwhelmed?
There are a variety of ways to respond to being overwhelmed. The solutions vary on the situation. To help us understand how this works, here's a story of someone we have been working with for a while now.
We encountered a leader recently who was overwhelmed, personally, with how their work as a leader is going. Their organization is growing rapidly. They were understaffed for that growth. The leader had a strong task orientation. They questioned their own time management and priorities – asking the question as to whether they were spending time on the most important things. This reached such a stress point that they decided it was time to get help to deal with the situation – so as not to continue to pile on the pressure.
What are the consequences of being overwhelmed?
Overwhelmed is a distressing place to be: anxiety is up, focus is down, complexity amplifies. Decisions become more difficult. Overwhelmed puts us on the defensive so everything coming at us feels like a threat, a duty, or a burden. Unsurprisingly, this puts us into a higher level of stress – that carries over into our family life, our recreation, our sleep, our health, our non-work relationships, and even the clarity of mind we have for other life decisions.
When overwhelmed happens to a leader, organizational distress can result. If overwhelmed means we get more reactive, then we can make poor decisions that increase the organizational challenges we face. If overwhelmed means we hunker down, we withdraw: we miss opportunities, we let problems fester, and others step in to take the power vacuum.
What was the risk in this case?
In this case, our overwhelmed leader stood the chance four major consequences if they didn't move out of the overwhelmed state.
First, our overwhelmed leader stood in jeopardy of handicapping their own organization. They were on a steady growth trajectory, buoyed by goodwill, clear mission, and solid service. If overwhelmed continued, the goodwill would start to sink, and service and mission would suffer. In fact, if overwhelmed meant that our leader backed off growth, the coalition of partners and clients would largely fall apart.
Second, our overwhelmed leader stood the chance of choking the life out of the organization by not increasing their own capacity. As an organization grows, the leader has to grow with it, or the leader's own limitations will cause significant limits to what an organization can do. The leader has to learn how and what to release to others and how to keep refocusing the mission, so they can keep momentum going. In a growing organization, if a leader retains their current workload and balance of duties, they will likely become more micromanagerial and controlling as work moves beyond their sight-lines and level of trust.
Third, our overwhelmed leader stood the chance of losing their job. They lead a board-governed organization, and the board's responsibility is to make sure the have the leadership needed to run the organization effectively. If they do not – such as having a leader who was good "for a time", but whose capacity did not adjust to the changing situation – they would be responsible to release that leader and find a new one.
Fourth, and perhaps most seriously, the overwhelmed leader stood a real chance of having trouble at home. Their spouse and children were seeing less of them than any of them wanted – and this would only build as overwhelmed kept going on. Even if they were physically present, overwhelmed would drive them to be mentally and emotionally distant, which would start to break down the family relationships they all held dear.
The risk is real – so what is the solution?
When we encounter a leader in this sort of situation, the first work we do is to do some basic problem identification. Typically this happens in our initial consultation – before any commitments happen, before any money changes hands. After all, if we can't identify the problem, we can't start helping.
Given the nature of "overwhelmed", there isn't one cut-and-dried solution to the situation. In general, we develop one of three approaches – plans – for getting past overwhelmed, based on the conversation we have.
Clear problem identification: we create a clear proposal with a clear plan to improve the situation. Perhaps it's a process problem, perhaps it's a communication problem, perhaps it's an information problem. We create a closed-ended proposal and build a solution together. If the problem itself isn't clear, we create clarity by working on problem definition in the first place.
Complex problem identification: there are multiple items all interacting together, and the complexity is such that interactions between the various pieces will have complex consequences. Perhaps it's finances and market positioning and executive team communication, for instance. We create a proposal for working through those complex challenges over the course of a set period of time, with targets and milestones for getting the complexity resolved to where it is manageable, and the presenting issues resolved.
Leadership growth: we identify the main challenge as helping the leader to grow and develop. In these cases, we develop a coaching plan to help the leader develop greater capacity.
In this case, we found that the overwhelmed leader faced complex problems, and that budgets necessitated approaching this as coaching. So that is what we have done for the past year.
What have the results been?
Over the course of the past year, we have seen this leader develop in several ways:
They have moved from a task-oriented approach to time management to a area-of-responsibility approach to time management, which has allowed them to block out time needed for higher-order work, while delegating basic tasks to others.
They have moved from a scarcity view of resources to an abundance view of resources, allowing for development of greater vision and more faithful execution of their work.
They have seized opportunities and managed crises toward positive impact.
They have found focus despite the complexities of the job.
They have increased in self-confidence.
They have empowered the staff that work for them to be more productive.
They have hired for gaps and for work that needs to be delegated.
They have completed major purchases of real estate and mergers with other organizations, added programs, and soft-launched a major initiative when COVID prompted moving the start date from fall back to spring.
They have positioned their organization to triple in size in the course of a year, with a vision and capacity for even more.
What do I do with my situation?
If you are feeling overwhelmed as a leader, take a moment to reflect on your situation.
What do you see as the source of your sense of being overwhelmed? Is it a process, a task, a complex ball of who-knows-what?
What resources do you have to apply to resolving this sense of being overwhelmed? Time, finances, people, other resources?
Do you sense that the primary challenge is your ability to grow your skills and capacity, or is the primary challenge something external?
If you can answer those three questions, you are well on your way to starting to resolve your sense of being overwhelmed. We're happy to be co-discerners with you, discovering what the best ways may be to help you move forward. Just give us a call, e-mail, or book a free session with us.