Matthew M. Thomas

Read Time: 4 mins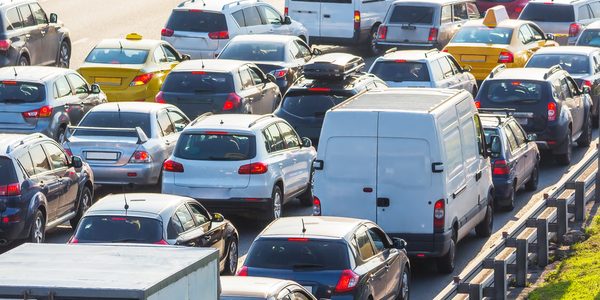 You know, the more I think about it, the principles we apply when trying to get out of a traffic jam are fundamentally the same principles successful leaders use in steering their enterprises forward. Those who do not apply them often find themselves, and their companies, trapped and ineffective in meeting their goals and expectations.
Here's an explanation by means of a story.
I recently took a trip, like many of us do, over the Thanksgiving holiday weekend. At one point during the trip, we encountered a significant traffic jam. Being down in the traffic jam, it was hard (even with the assistance of a friendly-voiced navigation system I call Nav Lady) to make clear decisions that would help us find a freer route. Either we were moving along and having to make decisions about exits and lane changes quickly, or we were sitting still.
Here we were, wedged bumper-to-bumper into the wrong lane, zooming along, with the Nav Lady chirping at us that we could go faster if we were to take the exit 3 lanes away and 50 feet in front of us. Exit left? That wasn't going to happen in this kind of traffic.
Suddenly, we were stopped completely, brake lights as far as we could see. After a few moments of sitting still, Nav Lady solemnly intoned, "there is a 13-minute slowdown up ahead due to a wreck. You are on the fastest route." Of course, then she promptly lost her GPS signal, making her think we were on a different road entirely, and proposed all kinds of traffic acrobatics to get back to the route we were already on.
Like most people at this point, I wasn't sure I could really trust Nav Lady.
I kept thinking to myself – if we could only see the bigger picture, see beyond what was right in front of us, we could make better decisions. And, even better, if we not only could see what was happening now but had some sense of how the current situation would develop and change as we all rolled forward, we could really make better decisions.
These two elements: big-picture perspective, and predictive modeling, are the two most significant qualities of leaders after emotional intelligence. Yes, emotional intelligence is the most significant management skill. But in terms of financial performance, innovative agility, and long-term sustainability, these two leadership elements can take a well-managed enterprise and turn it into a powerful tool for achieving significant goals.
Why is that?
Read more: Traffic Un-Jammed: Keeping a big-picture perspective at 70 miles per hour