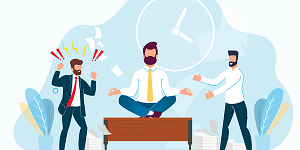 Frustration: Resolved! Moments is a series of one- to two-minute videos we have produced for organizational leaders. We all have something that is driving us crazy. What's got you frustrated right now? Check out the videos below!
Frustration Resolved
What Are the Five Frustrations of Business Leaders?
The Five Frustrations of Business Leaders are both comprehensive and universal. They represent organizational challenges that often have no quick resolution without focused intervention. This video introduces the Five Frustrations and offers hope for those experiencing them.
---



The Five Types of Leaders in a Crisis




Type 1 Leaders: The Out of Business Leader




Type 2 Leaders: The Wait and See Leaders

---




Type 3 Leaders: The Emergency Plan Leaders




Type 4 Leaders: The Work Inside Leaders




Type 5 Leaders: The Opportunity Creator Leaders

---




What Are the Five Frustrations of Business Leaders?




The Five Frustrations: Complexity




The Five Frustrations: Alone

---




The Five Frustrations: Firefighting




The Five Frustrations: Information




The Five Frustrations: Process